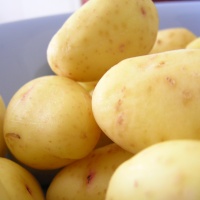 Yes, you can compost potatoes.
Be aware though that potatoes have a tendency to grow into new potatoes if left whole in the compost heap. On one hand, free potatoes! On the other hand, you might not want the plants to be growing there (and growing store-bought potatoes can sometimes introduce disease into your garden)… Chop them up to lessen the risk and if there is any signs of disease (particularly blight), don't compost them in case the virus/spores aren't killed by the composting cycle.
Potato peeling and skins rot down quickly without any risk of regrowth (though the same virus/disease issue still applies).
Also see: Can I Compost Potato Plants?
Share this post