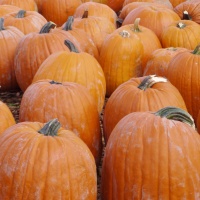 Pumpkin flesh will compost down quite quickly but the thicker rind will take a bit longer – cut it into pieces if you want it to rot down quicker or disappear into the bulk of the compost.
If you've got a whole pumpkin (or jack o'lantern) to compost, cut it up into chunks or slices first to encourage faster composting. Alternatively, if you've got chickens or wild birds visiting your garden, let them peck at the flesh first – that'll reduce the amount you have to compost.
Don't forget you can roast pumpkin seeds for a tasty snack – scoop them out and wash away the fibrous strands, then roast them or dry fry them for a few minutes. If you don't fancy roasting & eating them, wild birds and chickens like them too – though you might want to roughly chop them up first.
You can also use the seeds for crafts – see How Can I Recycle This? for things to do with them.
Share this post