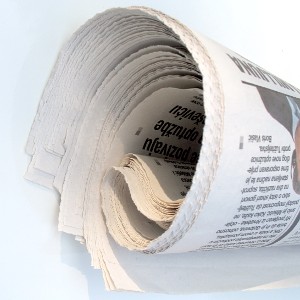 Yes, you can compost newspaper.
Normal newspaper adds lots of great carbon to a compost heap – soaking up excess moisture and if they're scrunched up, helping air circulate in the heap and prevent it from becoming too compacted.
Newspaper will rot down quicker if it's damp but for best results, try to alternate layers with other matter – ideally fresh green stuff like garden clippings or veg peelings.
Avoid heavy stacks of newspaper as they'll take longer to break down and shut off air to the rest of the heap – if you've got a lot of newspaper to get rid of, it would be better to recycle it through your paper recycling bin instead.
Oh, while newspapers are great, don't compost glossy colour supplements or leaflets that came in the paper though. Recycle those too instead.
Also see: Recycle This for How can I reuse or recycle old newspapers?
Share this post