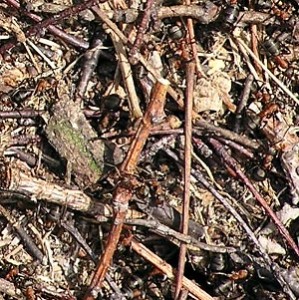 Yes, you can compost twigs, sticks and branches – but with some warnings.
Anything woody – twigs, sticks, bits of bark – will rot down eventually but even twigs and sticks take a lot of time and can make it difficult to turn your compost heap in the meantime. If you want to add them, chop or break them up into small sections so they don't get in the way and keep your compost nice and wet.
Any sticks or branches over a couple of centimetres (an inch or so) in diameter will even longer to break down – years and years if left in one piece (think how long it takes them to rot down in woodland etc). If you've got lots of big twigs or branches, it might be worth borrowing or hiring a wood chipper to break it down quickly – or use the resulting chippings for another purpose around the garden. (Big branches and logs can also be left in quiet parts of the garden to break down by themselves – they'll become a home to all sorts of little creatures in the meantime.)
Don't compost diseased wood or if it is riddled with problematic fungi, since the disease/spores might not be broken down by the composting cycle.
Share this post