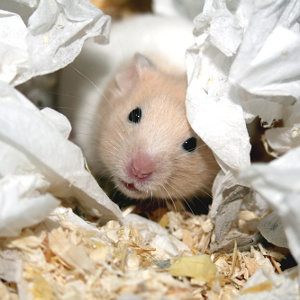 You might be able to compost pet bedding – it depends on the pet and the type of bedding.
It depends on the type of pet because the bedding/litter usually contains some of the pet's waste – poo and whatnot. It's not recommended to compost the faeces of animals that eat meat (or fish), or that hunt or otherwise eat random bits of food because it is considerably more likely to contain dangerous organisms that aren't broken down in the composting process. (It's especially important not to compost that type of poo if you'll be using your resulting compost on a veg bed or for other edibles.)
However, it's ok to compost the waste of healthy vegetarian animals (such as rabbits and some pet rodents & birds) so assuming the bedding is made from natural products and 100% biodegradable (such as straw, shredded paper or wood shavings from a safe source), you can throw it all on the compost heap: the bedding, the poo, any bits of food that have been scattered about and any shed hair/fur.
Liners for the bottom of cages/hutches etc of vegetarian animals can be composted too if they're made from paper or other natural materials. Don't compost plastic ones unless they explicitly state they can be composted – biodegradable plastic is not the same thing: it will not become humus and may leave plastic remnants in your heap for a long time.
Share this post