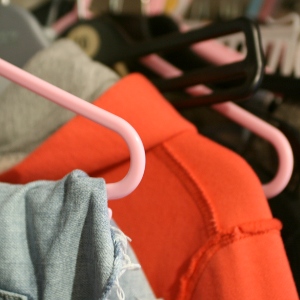 You might be able to compost old clothes – it depends on what they're made from.
Basically, as you might have guessed, natural fibres will compost down but synthetic ones will not.
Clothes made from synthetic fibres – such as acrylic yarn, polyester/nylon fabrics or microfibre fleeces -shouldn't be added to the compost heap as they won't break down – they'll just clog up your compost heap.
Items made from entirely from pure wool, cotton, silk, linen, hemp and ramie (or a blend of any of those) will compost down – but they will all take a while (their durability is one of the reasons why we make them from them rather than, say, paper). Tear them up to help them rot down quicker.
Keep in mind that many items that claim to be made from 100% natural fibres, like cotton t-shirts or jeans, may still use polyester "cotton" for their sewing thread (since it's cheaper & strong than actual cotton thread). That won't break down so you might end up with some strings left in your compost heap – once everything else has rotted down around it. (They should be relatively easy to pluck out though.)
Blends of natural and synthetic fibres are more of a judgment call, depending on the mix. If it's more synthetic than natural, then almost definitely leave it out but if it's only includes a little synthetic material, then you might consider adding it. The synthetic part might break up but will still not break down – you might be left with either lots of little tiny pieces of it throughout the compost or some longer strings, depending on how the synthetic material was incorporated. If you want to keep your compost heap free from synthetics then obviously leave them out, but if you're not so fussy, you can add them and pluck out longer strings afterwards.
Don't compost any clothes that are stained with things from the "do not compost" list – like paint or engine oil – as you don't want that in your compost heap.
If you're using your compost for veg growing, you also might want want to leave out natural fibres that have been extensively dry cleaned or include heavy prints to avoid residue chemical contamination. And definitely avoid composting items like t-shirts which have slogans or designs that seem to sit on the fabric rather than ones that are part of the weave or have soaked in – that's usually a sign that it's been printed with PVC inks and plastics like PVC will not break down.
Clothes made from natural fibres are a "brown" in composting terms – make sure you add them alongside fresher, wetter items (like veg peelings or garden cuttings) to ensure they break down in a timely manner and your heap stays balanced. And don't overwhelm your compost heap with old clothes – no more than 25%.
Before you think about composting any old clothes though, do try to reuse (or allow others to reuse) the items first. Donate still wearable items to charity shops/charity collection bins or sell them on eBay. Cut up old cotton items to use as cleaning rags. If you can sew or are the crafty type, you can upcycle the item as another piece of clothing or use the fabric as a material for other crafts. Finally, textile reclamation specialists (aka "rag men") take old clothes and reclaim the fabrics for industrial use (such as for insulation). All of those are better reuses for fabric than simply composting them.
Share this post