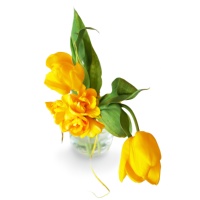 Cut flowers, whether bought-in or from the garden, can be composted.
Deadheaded flowers can the garden can be thrown into the compost heap too – though the usual provisos apply regarding disease (don't compost anything that's diseased – it not be broken down in the composting cycle and could reinfect your garden again).
The vase water from cut flowers can also be added to the compost heap too but be wary if you've used a lot of flower feed/preservative. Commercial flower feeds (like the ones that come in little packets with bouquets) often include a biocide to kill bacteria/protect the flowers — but it also might harm the useful bacteria in your compost heap. Basic homemade feeds/preservatives such as sugar or lemonade are fine to go into the compost heap though.
Share this post