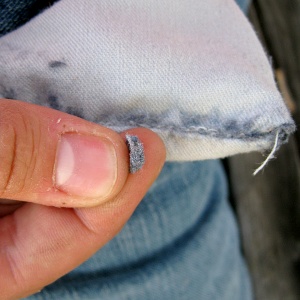 You might be able to compost dryer lint – it depends on what you've been tumble drying.
As well as animals (and human) hairs and other random things (like bits of paper) that didn't get washed away, lint is made from stray fibres from your clothes. If your laundry is made from natural fibres (such as cotton towels or sheets), then the dryer lint will be compostable (the hair and paper will rot down just fine).
Dryer lint from synthetic fibres will not break down – it'll spread throughout the compost so you probably won't be able to see it. It's up to you whether or not you want those little invisible synthetic fibres in your soil.
Don't compost lint if you've used dryer sheets. Dryer sheets are not only made from synthetic materials that are prone to shedding, they're soaked in perfumes and other chemicals – you don't want those in your compost heap. (You might want to try using dryer balls instead – they're said to help soften up clothes in the same way as the sheets, but are reusable and not perfumed.)
Share this post