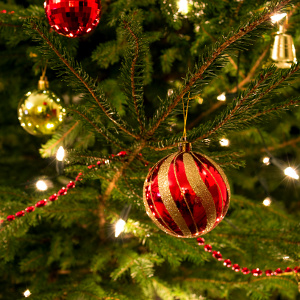 Yes, you can compost real Christmas trees – though do remember to take the baubles off first ;)
Because the needles are slightly "rubbery" and tough, they're quite resilient to the usual composting bacteria so take ages to breakdown, and the trunk can take even longer: cutting up the tree or, ideally, shredding it will help a lot. Otherwise, it could easily be next Christmas or the one after that before you start seeing any progress.
You can take advantage of the fact they're slow to rot down by striping off the needles (if they've not already fallen off!) and sprinkling them over muddy paths in the garden. Other people use the bare boned tree to make habitats for wildlife & birds or grow climbing flowers/beans up them.
(One thing to note: It's a myth that pine needles will make your soil more acidic. Yes, they are generally quite acidic when fresh/on the living tree but by the time you're ready to compost your Christmas tree, their acidity will have waned considerably: adding fallen/dry needles to your heap won't disturb the balance too much and once composted, they'll have little impact on the ph of your soil.)
Alternatively, many councils are happy to take away real Christmas trees as "green waste" (industrial composting processes make short work of the tough trees) and some have even have schemes that use them in local environmental projects. Check your council's website for details.
Also see: How Can I Recycle Christmas Trees?
Share this post