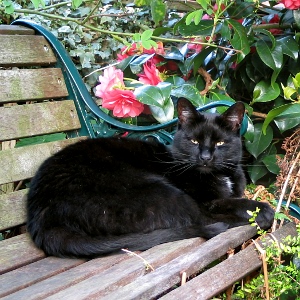 No, you shouldn't compost cat waste or cat litter.
As meat (and random stuff) eaters, cats' faeces contain all sorts of nasty bugs and dangerous organisms that you don't want mixed in with your compost – particularly if you're going to be using it on your veg bed. Although it's tempting to add wood-based or paper-based litters to the heap (since they do break down quickly), it's best to avoid anything that has come into contact with that potentially problematic poop.
(Wee is not such a problem – healthy urine is typical sterile – but the clumped litter might have come into contact with faeces at some point.)
If you'd rather not send it to landfill and have the space, you may want to explore a dedicated pet poo bin: dug into the ground and treated regularly with proprietary product (some are harsh chemicals, some are kinder to the environment), they break down poo quickly and without stinking up the place. Make sure you pick a litter that is 100% natural material/biodegradable, and any litter tray liners are biodegradable too so that they will break down along with the poo.
(Photo of our lovely old cat Carbon, who died in 2010. I thought you'd prefer to see a picture of his pretty face rather than some kitty poo. Do leave a comment if I'm wrong in that assumption: our current feline team would be more than happy to oblige.)
Share this post